Proposal "dash-retail-4" (Closed)Back
| | |
| --- | --- |
| Title: | Dash Retail: Merchant Platform, Hardware POS, In-store Exchange & Dash Payment Cards |
| Owner: | AshFrancis |
| Monthly amount: | 190 DASH (12913 USD) |
| Completed payments: | no payments occurred yet (4 month remaining) |
| Payment start/end: | 2020-03-15 / 2020-07-12 (added on 2020-03-13) |
| Votes: | 803 Yes / 214 No / 40 Abstain |
| External information: | app.dashnexus.org/proposals/dash-retail-4/overview |
Proposal description
Dash Retail is Now Live

:
https://app.dashretail.org
New Video Update (24th March - 1 min 44 seconds)
Major Updates:
Dash Retail 1.0 Launched
We've now launched the first version of Dash Retail, whilst we expect some minor bug fixes this is a major release and you are welcome to test it yourself, so far we've had amazing feedback and support and local teams are keen to get it deployed in our merchants.
Fiat payouts via Uphold
Split payouts (e.g: 50% to wallet, 50% to USD in Uphold)
Hardware POS Devices (Android payment terminals with receipt printing, nfc, etc.)
Software POS Devices (Android/Apple phones, Laptops, etc.)

Tap Payments (see below)
In-store Dash Exchange (see below)
Tap Card Payment [beta]
Tap to pay (NFC) is the best point of sale payment flow there is at the moment, it's fast, easy and convenient. Your grandma might not operate a crypto wallet on a smart phone but she can definitely tap a piece of plastic. With over a billion adults unbanked in the world, a Dash Payment Card is the most accessible way to get them banked and able to make POS purchases, pay for public transit and more. We're currently investigating ways to make this completely trustless and non-custodial (more on that soon!).
In-store Dash Purchase [beta]
Turning any merchant into a Dash ATM will make Dash much more accessible, powered by our local agents this provides a solution to the chicken and egg problem - Dash users can acquire and spend Dash at the same location with ease.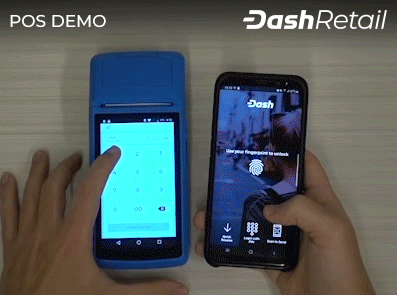 Partnerships


Dash Core Group

We're working with the business development arm of Dash Core Group to improve Dash merchant adoption with the use of Dash Retail, we'll be sending out physical devices to Ernesto and Omar at DCG to deploy to merchants and use to demonstrate the benefits Dash brings.
Dash Help + Support

We're working with Dash Help to integrate their support directly in Dash Retail, we're also working with them on improving Dash Retail to better meet their needs, they have already provided invaluable feedback on how the system works. We are posting out physical POS devices and NFC cards to this team.
Dash Text

Dash Text is fully integrated into Dash Retail and we'll be working closer with this team and their on-going developments
Dash Impulse
Dash Impulse are testing out Dash Retail and have provided a significant amount of feedback, they will be continuing to test Dash Retail and we look forward to working with them on getting Dash Retail deployed in the field.
Other Teams
Dash Retail is live now, please feel free to use it and provide feedback, if you would like the Android APK for NFC and your account to be enabled for beta functionality (exchange, store cards, etc) please send me a message.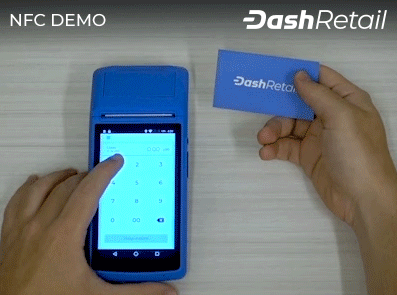 More Info

Dash Retail Features

Easy onboarding for new Dash Merchants
Full separation of merchants from clerks (clerks have no access to the merchants Dash or transaction history)
Full transparent reporting to Dash Watch via backend read-only access
Split payouts (including support for fiat payout via Uphold)
Easy set-up of hardware devices, android or iOS phones or computers
Comprehensive pricing system that now powers the fiat prices in Dash wallets (Android, iOS, etc.)
Full adoption agent system for merchant sign up and support
Support for text based payment (Dash Text, Cointigo)
Dedicated hardware options (single screen POS as demoed above, and two screen devices previously demoed)
Full payment tracking and reporting + CSV export
Full localization with more language improvements coming soon
Security features to protect merchants including 2FA
Android application and soon iOS application [BETA]
NFC Payments [BETA]

In-store purchase and sale of Dash [BETA]
Advantages for Merchants
Separates Clerk role from Merchant role (scales to businesses where owner isn't in store)
Owner doesn't have to entrust device/wallet to Clerk as POS holds no funds
Ability to sell Dash to, or buy Dash from their customers (new revenue opportunity)
Ability to sell Dash NFC cards to their customers (new revenue opportunity)
Can add auto-converting address to enable fiat off-ramping (instant volatility offset)
Can specify a percentage of how much Dash they wish to keep and how much to convert
Dedicated hardware with receipt printing, etc.
Direct line of support with local adoption team
Set-up for them by local teams, much smaller learning curve
Accounting is far easier with full CSV exports, invoice numbers, etc
Scales to hundreds of stores with thousands of clerks with ease
Accept Dash Text, Cointigo, NFC Cards and any Dash Wallet
Extensible to web checkout, vending machines, transit, etc.
Easy to use for Clerks with great UX
Advantages for Adoption Teams
Full transparent metrics reported to the DAO
Direct line of support to merchant
No issues with business owner walking away with device
Smaller education requirement
Easier sell to merchant
Allows easy tracking, error reporting, etc
Full technical and modification support from Dash Retail team
Bulletproof reliability
Easy merchant set-up flow
Excellent branding, easy UX
Upcoming Work

The majority of our focus will be on refining the main Dash Retail application based on our work with the local teams, this includes UX and flow improvements, new requested features, better structures for merchant:agent relationship (pass reset, exchange settlement, etc) and any other feedback they have, to make the system best accommodate the agents and their merchants needs.
Alongside this, we will be:
Ordering and distributing hardware devices + NFC cards
Improving + releasing our Android and iOS Apps

Releasing Beta features into active use

Supporting deployment of Dash Retail into merchants in Venezuela

Working with Dash translators to accurately translate Dash Retail into their languages

Investigating deploying apps on Clover POS + Verifone POS Hardware

Investigating Dash Retail integration with Dash Platform (username based payments etc)

Investigating dedicated linux based hardware for cheaper bulk costs, improved security, better NFC, etc.

Team and Roles
Ash Francis + Alex Cox. Alex is our technical lead with 10 years development experience and Ash provides design, front-end development and project management. As Dash investors we are working at a reduced salary to return the greatest benefit and ROI to Dash whilst also building a codebase that our other projects can benefit from alongside Dash (likewise, assets and work from these other projects is being brought into Dash Retail).
Transparency
All of our accounting records and website statistics are accessible to Dash Watch and able to be audited at any point, these records are recorded down to transaction level.
Ownership
We have sent Dash Core Group $1,500 to cover the necessary costs for their intellectual property lawyers to review and finalize a license for Dash Retail, this license will give the DAO full control of Dash Retail forever, with the ability to sublicense (it is irrevocable and perpetual and allows commercial use).
Budget
This budget should cover our reduced salaries at $3,600 a month as well as our office rent, infrastructure and other costs. We are currently at a negative balance based on historical costs and hope to be able to partially pay some of these costs back. Our budget is based on a 7-day SMA of $72, we are hopeful that Dash will recover from it's current lows. In the eventuality that Dash doesn't recover, we will further reduce our costs, though we may have to reduce hours allocated to Dash Retail and work freelance to ensure we can afford our living costs. It's worth noting that while we have put $3,600 in the budget most months, our average salary works out far less with many months unpaid, or partially paid from Ash's savings (having to sell his singular MN to do so). We will always endeavour to respect the treasury and be as efficient with funds awarded as possible.
Get In Touch
We are happy to answer any questions either on this proposal or you can reach out directly on the details below.
Email: ash@ashfrancis.com
Telegram: @ashfrancis
Twitter: @ashtonfrancis
Discord: Ash#8776
Skype: ash.francis
Thank you for your support.
Show full description ...
Discussion: Should we fund this proposal?
Submit comment