Proposal "Microsoft-and-POS" (Active)Back
Title:
Business integration into POS terminals with Microsoft Azure
Owner:
dmitriybtc
Monthly amount:
85 DASH (25771 USD)
Completed payments:
2 totaling in 170 DASH (1 month remaining)
Payment start/end:
2017-08-19 / 2017-11-16 (added on 2017-08-09)
Votes:
1019 Yes / 154 No / 14 Abstain
Will be funded:
Yes
Manually vote on this proposal (DashCore - Tools - Debugconsole):
gobject vote-many 5bc08e95fe4ddfa09dde0960a2e27231e056948c73f52a00e7234cd48d9346f7 funding yes

Please login or create a new DashCentral account for comfortable one button voting!
Proposal description
In short:
Continuation of integration of Dash into POS terminals. Expansion of number of restaurants and retail businesses. The next stage of integration and partnership with Microsoft.
Key points:
partnership with Microsoft

universal free software on Microsoft Azure

multilanguage support

Dash global outreach and marketing by Microsoft

Core of proposal:
By starting presenting our payment solution to various businesses, we found that it can have a huge success. People loved it and the demand for such implementation grew pretty fast.
We've already partnered with:
Oleksandr Kurinnyi (CEO of AxxonSoft) with Smartroad project (Dash payments for traffic violation)
Michail Reznichenko (CEO of Profit Solutions) with POS terminals (Dash payments in retail sector)
Michael Chabonyan (the founder of Bitcoin Foundation Ukraine) with CryptoHryvnia project
Gradually, on one of the conferences we met representatives from Microsoft and they became rather interested to work with us. According to their team, Blockchain and cryptocurrency is here to stay and they will do whatever it takes to make this
space growing at a more rapid pace.
Based on what we've already done, together we came up with a unique solution. Currently all of the software that can be trusted is paid and heavy. That's why we want to create a free light client that any small business can use.
Basically every single terminal in a small business (restaurant, coffee shop, hotel, cinema, gas station etc.) that has installed Windows (a vast majority) will be able to log-in into Microsoft Azure, install our software and get ready to pay with Dash.
In this way, the entire process is simplified to minimum steps which is extremely easy to maintain, especially during the further updates.
The best part is that such software can be used globally. We remove the borders and want to create an amazing system that can accelerate and even force a mass adoption of Dash internationally.


Paying with Dash in Givi Rubenshteyn:
What it makes for Dash:
Dash has a chance to be accepted on virtually any terminal in a restaurant or any other small business that runs on Windows throughout the world
professional marketing and support from Microsoft

since Dash is the fastest and most user-oriented crypto on the market, together with Microsoft it has a chance to outperform even Bitcoin
this integration prepares DASH network to wide usage before the Evolution

Our integration in the news:
Bitcoin, Dash Payments Could Soon Cover 80% Of Ukraine Merchant Terminals — Cointelegraph

KUNA Stakeholders Conference — Cryptogroup Youtube Channel

Interview: Business Integration Into Retail Sector of Ukraine — DashforceNews

In Kiev restaurants there will be cryptoterminals  — Forklog (https://forklog.com/v-kievskih-restoranah-poyavyatsya-kriptoterminaly-dash)

Kiev started to accept cryptocurrency - Hashtelegraph
Dash Accepted at Ukraine Restaurant, Begins Wide Retail Integration - Dashforce

Pay with cryptocurrency for food - Tarpan Digest
Dash is accepted (from real users) - Dash Unofficial Youtube Channel
The beginning of wide integration in retail sector - Ukrainian restaurant is accepting Dash - HappyCoinClub
Givi Rubenshteyn in Kiev is officially accepting cryptocurrency - Cryptogroup Medium Channel

About us:
Cryptogroup (https://crypto.group) is a team of experts in programming, cryptocurrency andBlockchain technologies and fintech services.
Here's what we've accomplished so far:
Launched a daily news source on cryptocurrencies - fork.land (November 2016)

Launched a Ukrainian DASH community website - dash.com.ua (January 2017).

Launched an exchange - Fork.sale (March 2017)

Held 5 conferences on cryptocurrency in Kiev, Zhytomyr, Vinnitsia and Kherson

Created 5 video blogs about Dash and blockchain on our YouTube channel

Integrated Bitcoin and Dash into 3 restaurants (Givi Rubenshteyn, Pasteteca and

Celentano)

Presented our product in front of 100+ stakeholders on the top cryptocurrency conference in Ukraine.

Costs:
Development of the actual software + maintenance

Marketing,training in the restaurants

Reimbursement(5 Dash)

Total(255 Dash)
A sample from a real restaurant: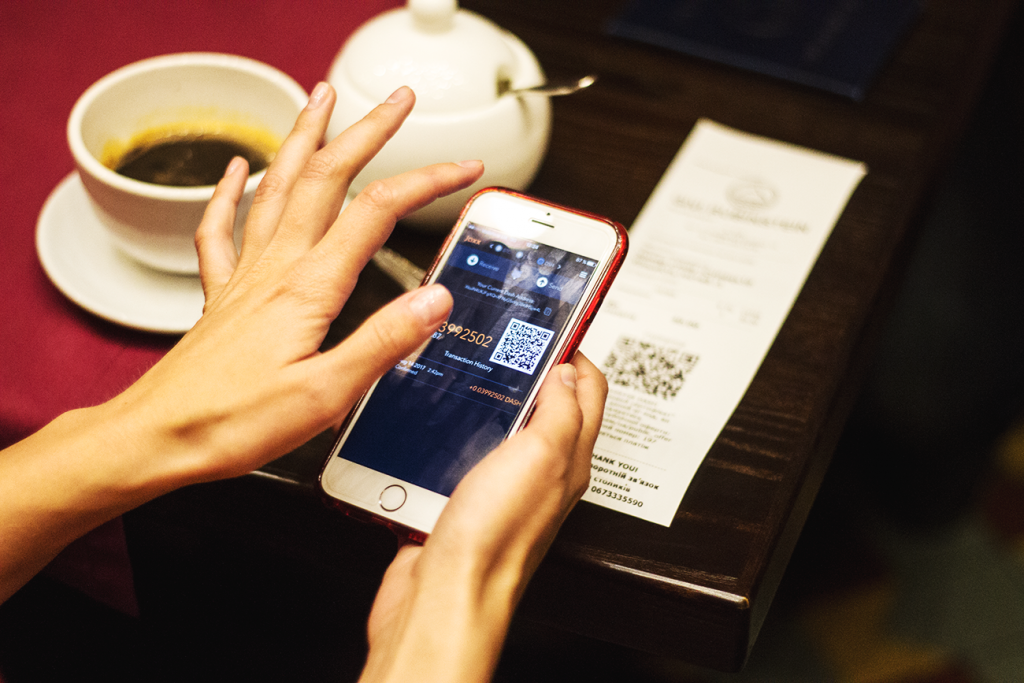 Show full description ...
Discussion: Should we fund this proposal?
Submit comment