Proposal "DashBrazil" (Completed)Back
| | |
| --- | --- |
| Title: | Dash Brazil: YouTube + Social Media + Conference Attendance + Content Creation |
| Owner: | rambrissi |
| Monthly amount: | 41 DASH (3178 USD) |
| Completed payments: | 6 totaling in 246 DASH (0 month remaining) |
| Payment start/end: | 2018-08-17 / 2019-02-12 (added on 2018-08-03) |
| Final voting deadline: | in passed |
| Votes: | 20 Yes / 18 No / 0 Abstain |
Proposal description
This Proposal is to continue the YouTube Channel + Social Media Management + Conferences Attendance.
Segments include.
Dash/BTC/Dollar Pair Graphics Analysis ( done by a professional trader).
Dash News 3 times a week.
Promote Business and people accepting Dash in Brazil.
Tutorial videos about Dash and Evolution (when the time comes).
Podcast Interviews with Personalities involved in the Cryptocurrency and Blockchain Businesses.
Coverage of International Events related to Cryptocurrency.
Speak in Latin America Events.
Social Media Management: Facebook, Instagram, Twitter, SoundCloud, Discord, Telegram group, WhatsApp Group.


Dash Dinheiro Digital Brazil: Achievements in the past 6 months.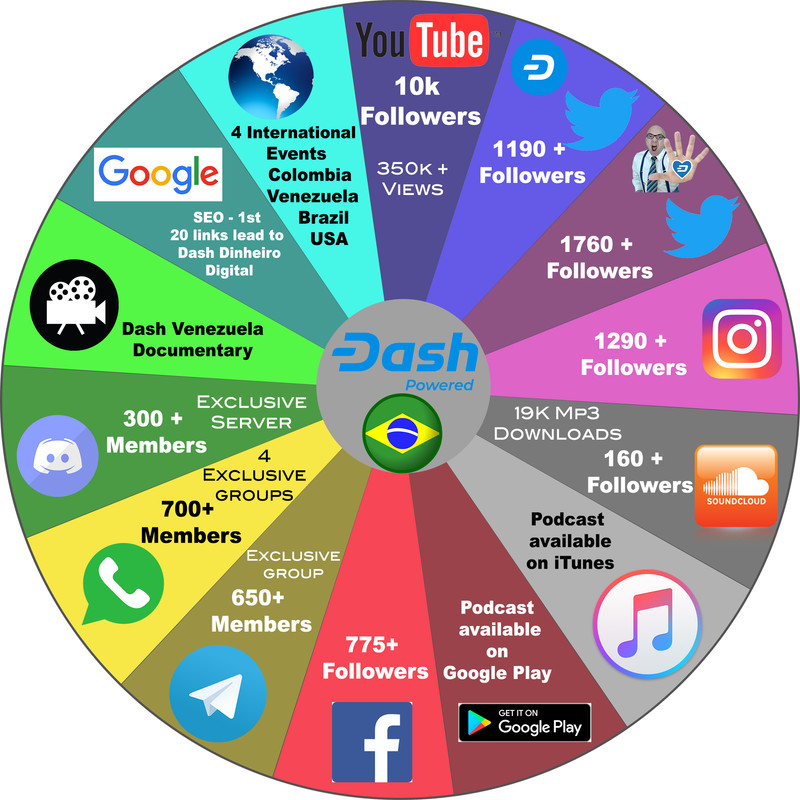 Documentary: Venezuela and the Cryptocurrency Revolution - Powerd by Dash Digital Cash.
Consensus 2018 NY.
VI Bitconf Brazil ( Largest Bitcoin Conference in Brazil)
Please visit our YouTube Page and Social Media.
YouTube:
https://www.youtube.com/c/DashDinheiroDigita
l
Discord:https://discordapp.com/invite/6zrPrwx Itunes:
https://itunes.apple.com/us/podcast/dash-dinheiro-digital-podcast/id1289400459
Podcast:
https://soundcloud.com/dash-dinheiro-digital
Twitter:
https://twitter.com/DashDinheiro
Facebook:
https://www.facebook.com/DashDinheiroDigital/
Instagram:
https://www.instagram.com/dash.dinheiro.digital

Grupo - Telegram:
https://t.me/DashDinheiroDigital
Grupo - WhatsApp:
https://chat.whatsapp.com/Hs9ikI7hyw2LeqJsbJNhJe
Please Vote. Thanks. Rod - Dash Brazil.
Show full description ...
Discussion: Should we fund this proposal?
Submit comment